The vast majority of traumatic dental injuries occur as a result of impact to the head, which means that they most often occur when the individual is engaged in recreational or sports activities. While many of these injuries may be minor–such as chipped teeth or cuts to the soft tissue of the inner cheek–none of these injuries are pleasant and most of them can be entirely avoided through the use of mouthguards.
Mouthguards are flexible devices worn over the teeth in order to protect them while the individual is engaged in activities that may cause them harm–such as recreational or athletic activities. They can be especially important in situations where the individual has braces or fixed anterior bridgework, but they are always useful in protecting one's teeth from the potential trauma caused by blows and physical contact.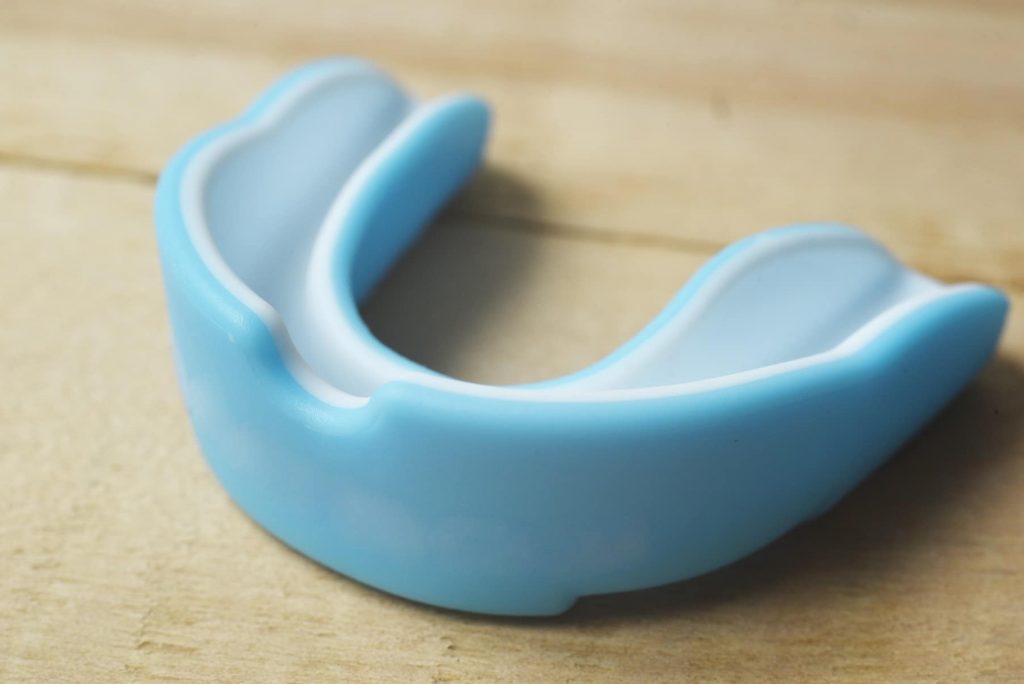 The Benefits of Mouthguards
Mouthguards that are properly fitted and worn can help to protect against chipped teeth, broken teeth, root damage, bone damage, tooth loss, cutting and bruising of lips, tongue and cheeks, jaw fracture, cerebral hemorrhage, concussion and neck injuries. Most mouthguards are designed to be used over the upper teeth, though there are some instances, including a protruding jaw or the presence of braces, where it is prudent to also wear a mouthguard over one's lower teeth.
In addition to protecting one's teeth and soft tissues from damage, mouthguards should:
Allow one to speak fairly normally.
Permit one to breathe easily and normally.
Stay in place throughout one's activities.
Be comfortable and fit well.
Allow for easy cleaning.
Be durable, resilient, tear-resistant, odorless and tasteless.
The United States National Collegiate Athletic Association requires that athletes participating in ice hockey, lacrosse, field hockey or football use protective mouthguards due to the high impact rate in these sports. However, any sport in which physical contact with others or with hard surfaces is possible carries an attendant risk of injury to teeth and soft tissues in the mouth. For this reason, the American Dental Association recommends that mouthguards also be used if one is participating in acrobatics, basketball, boxing, discus throwing, gymnastics, handball, martial arts, racquetball, rugby, shot putting, skateboarding, skiing, skydiving, soccer, squash, surfing, volleyball, water polo, weight lifting and wrestling, among others.
There are three types of mouthguards:
Stock. These are the least expensive mouthguard option, and can usually be found in most sporting goods and drug stores. They are, unfortunately, the least comfortable or protective option since the are pre-formed and bulky. They can make speaking and breathing difficult, and usually require effort to keep in place over the teeth.
Boil-and-bite or shell liner. These are slightly more expensive than stock mouthguards, and can be found in most sporting goods and drug stores as well as online. Boil-and-bite mouthguards are made of thermoplastic, which softens when boiled and then forms to the shape of the teeth when bitten. Shell liner mouthguards are lined with acrylic gel or rubber that molds to the shape of the teeth and then sets. These mouthguards are often considered a better option than stock mouthguards, but they can still be uncomfortable and bulky.
Custom. While these are the most expensive option, they are also the best option for fit, comfort and protection. Custom mouthguards are obtained through your dentist, who takes an impression of your teeth and sends it to a dental laboratory so that your mouthguard can be custom-made just for you.
Properly cared for, maintained and used, mouthguards can help to safeguard your oral health. Stock, boil-and-bite and shell lined mouthguards tend to only last a few months before needing replacement, while custom mouthguards can last a year or longer if well cared-for. To that end, it is important to brush and floss your teeth prior to wearing your mouthguard, avoid chewing on or bending your mouthguard, keep your mouthguard in a clean, rigid, well-ventilated container when not in use, wash your mouthguard after use with cool, soapy water, keep your mouthguard away from excessive heat, take your mouthguard to your dentist if you notice any damage or wear, and have your mouthguard checked frequently by your dentist to ensure it is in proper condition.
For more information about mouthguards, contact Dr. Nurminsky today.